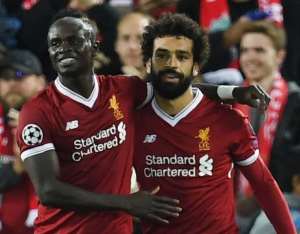 President of CAF, Dr Ahmad Ahmad has thrown his support to Liverpool's African duo of Mohammed Salah and Sadio Mane win the UEFA Champions League on Saturday.
The Senegalese and Egyptian have been integral for the English side this season, scoring most of Liverpool's goals as they reach the final of the UEFA Champions League where they face 12 times champions Real Madrid.
But ahead of the much-awaited finals on Saturday, the head of Africa football governing head says he wants the African duo to win the Champions League despite his affection for Real Madrid.
"I will pray for Mohamed Salah and Sadio Mani to win the Champions League title,' he said.
Meanwhile, Dr Ahmad was quizzed about Salah's influence on promoting the bid for the 2026 World Cup, he said, "No. No, the African Football Force can force the player to promote or support any World Cup bid.
"What I ask Salah to focus on is to win the Champions League with Liverpool vs. Real Madrid ".
"It's no secret that I'm a Real Madrid fan, but I hope Liverpool win, I'll pray for Salah and Sadio Mane to win the title."
Dailyseer